The service desk should be the central hub of all that you do, and interoperability of other applications is key. Sunrise has a powerful REST API that makes it easy to integrate with other applications for both inbound and outbound communication.
Here, we're going to look at a couple of examples of popular integrations: Teams and Jira.
Often the service desk team will enter information into the service desk tool that it wants to share with other users. This can be done by email, but it may also be beneficial to share it with other applications via integration. In this example, we can look at how to update a major incident in Sunrise and share the information with Microsoft Teams without needing to update both separately for all concerned.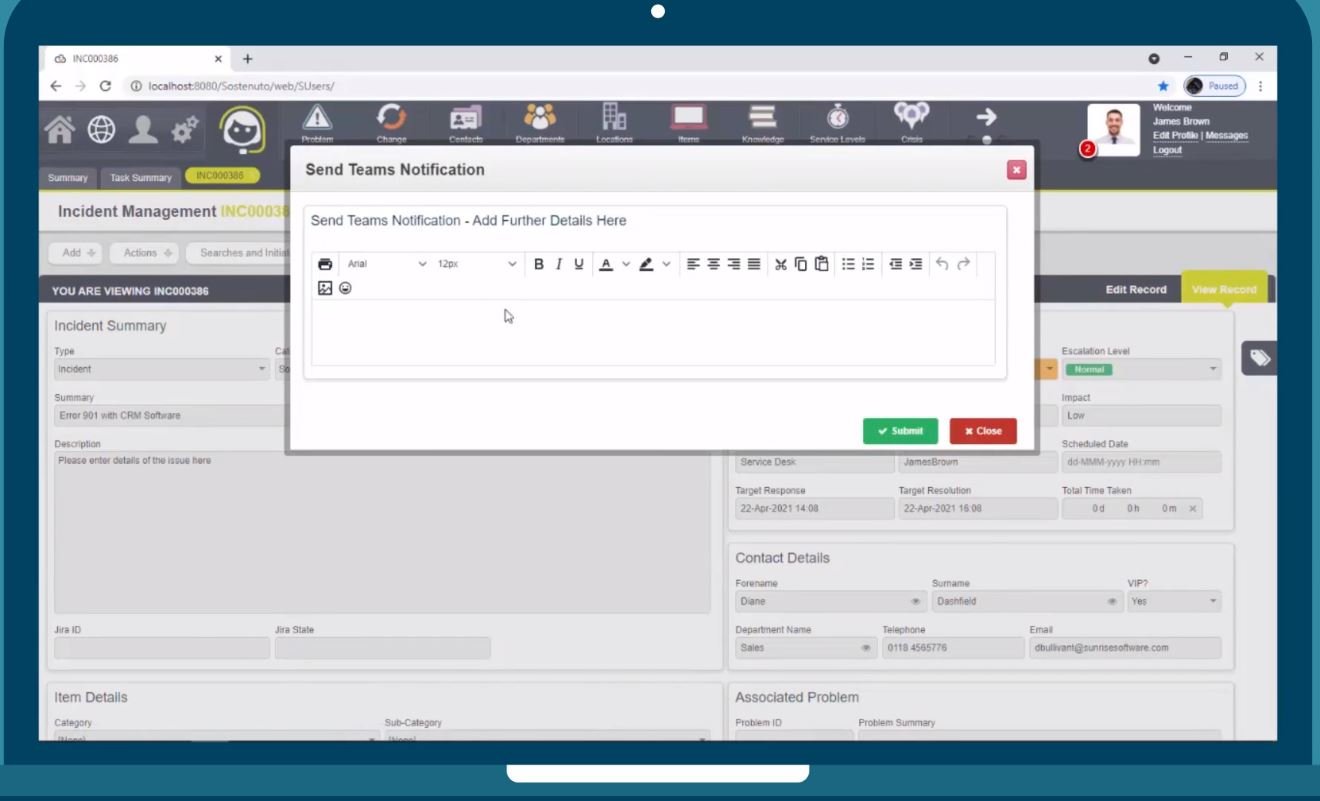 In this integrated scenario, while the IT user is within an incident ticket in Sunrise, all that's needed is for them to go to an action and select to send to Teams. As it's typed into Sunrise, the information can be seamlessly shared, meaning that all of the customers following that Teams channel will be automatically updated.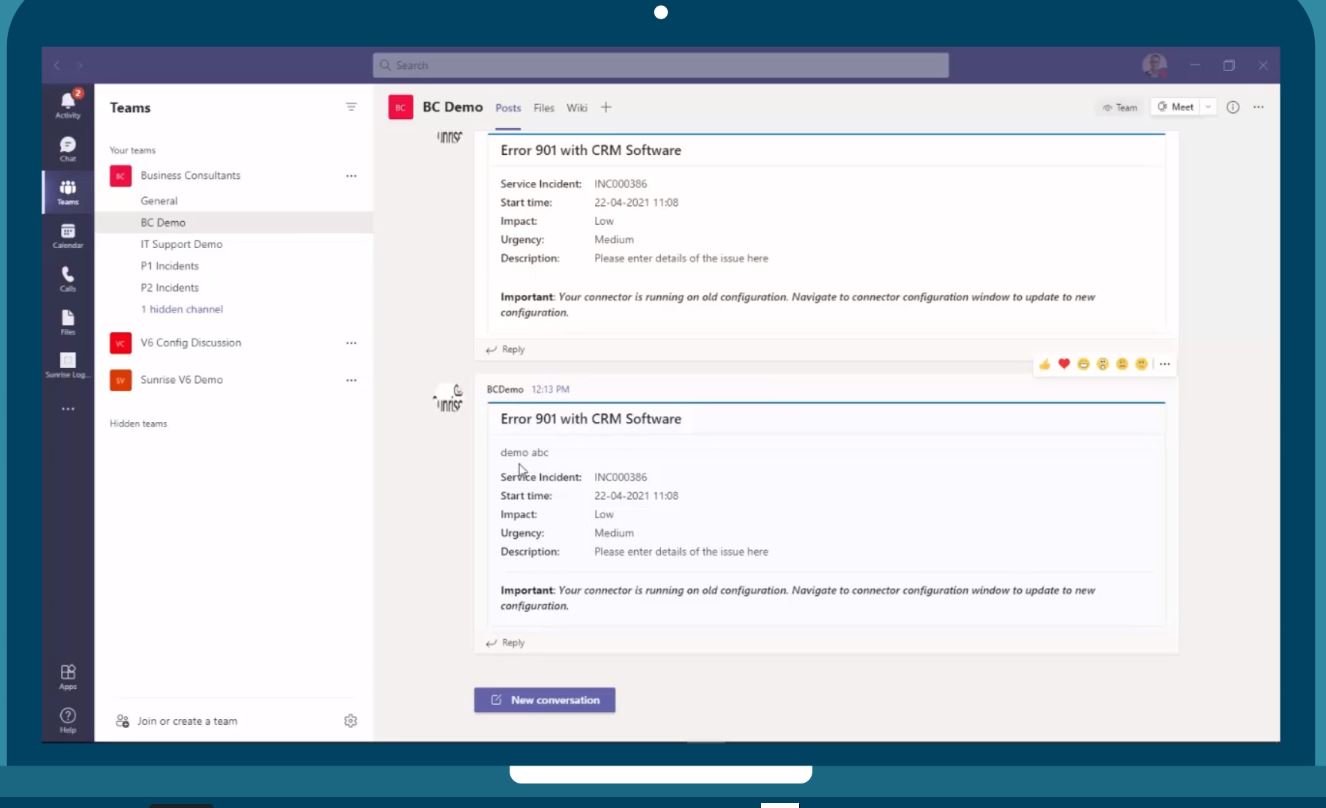 That not only saves time and duplication but also means that customers are updated in real time. Here we can see that the record and any additional details from Sunrise have been sent automatically to Teams.
Other popular integrations can be with areas such as Microsoft Graph, or for example you could automatically create a user in Azure or add an event to someone's Outlook calendar. In this example, you can see how adding a calendar event in Sunrise can use an API to automatically add it to the relevant user's calendars. Again this makes it much easier than having to manage a separate calendar and having to update it within the Microsoft application as well.
Often 2-way integration will also be required, if there's value in sharing information between two applications. This could involve a development tool or another application which a different team uses. Here you can see an example whereby we can integrate Sunrise with the Jira development tool, with information automatically sent to Jira using the API.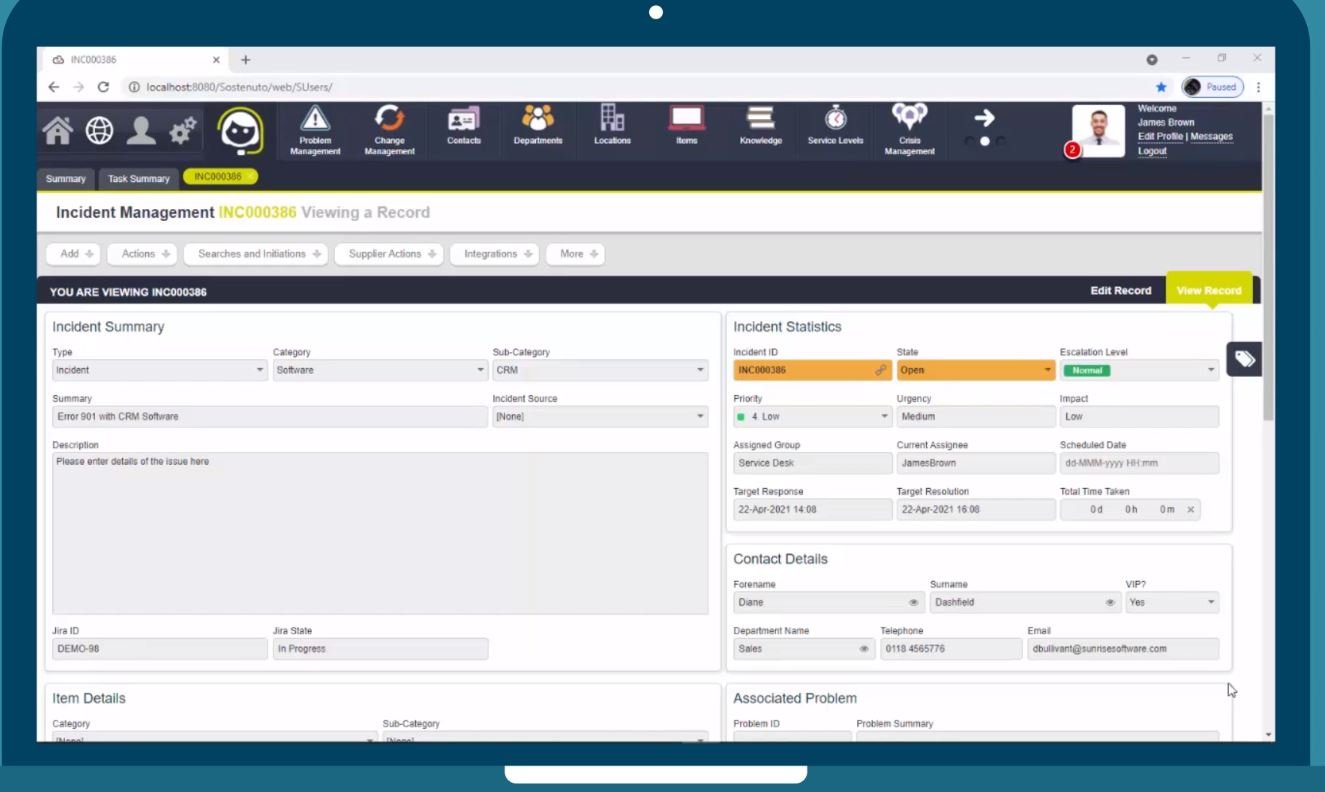 You'll notice that when we do that, the record is created in Jira and we also see the update of the Jira reference within Sunrise. This means that in the future we can share information from Sunrise with Jira in both directions, so if the record is updated in Sunrise it can update Jira and likewise if Jira is updated, this can automatically update Sunrise. That's just one example of how two applications can interact.

As you can see, integration helps to improve customer experience by breaking down boundaries. Integrating systems can mean customers can be updated in real time and things are less likely to fall between the cracks.